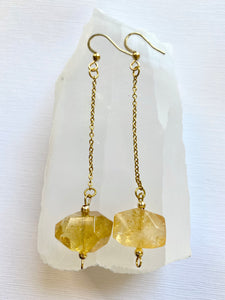 ~All items are handmade with a pure heart, positive intentions, love & light~
All items are smudged with sage for cleansing before being shipped out to their new homes.
Stones are all natural (not imitation or synthetic). These earrings measure a little over 2 1/2 inches.
Citrine - A stone of abundance and manifestation, attracting wealth and prosperity, success and all things good. It also encourages generosity and sharing good fortune. Its foremost energy is to aid in manifestation. Its frequency awakens creativity and imagination and sustains the process of transforming dreams and wishes into tangible form. In the mental arena, citrine enhances mental clarity, confidence, and will power. The mental clarity and confidence support bringing increased creativity and honesty. Relates to the Solar Plexus Chakra.

*Note: Crystal meanings are spiritual supports to healing and are not prescriptions or healthcare information*